Sharing a couple of pics today for This or That Thursday and Show of Your Shot. I captured this little guy the other day outside the church during my daughter's Girl Scout meeting. He was busy flitting about the mums. I just love the coloring and patterns on his wings.
Linking up today at
debduty.com
. Stop by and check out her gorgeous pics!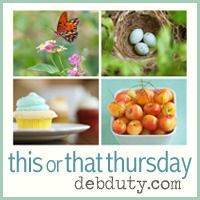 Also linking up at
Rachel's place
. Pop over to check out this talented and witty mama.