It's the fourth week of the Poetic Winter Photography challenge already. I don't have anything spectacular to share. In fact, I've been pretty disappointed with my photography lately. I feel like the more I learn, the worse I get, lol. Perhaps I am just developing a better eye and therefore I can discern how badly I sometimes do things. I have been studying and practicing, only to find I'm coming up short. At any rate, I have been frustrated and feeling less than inspired. So, I only have a few images to share for this challenge. Hopefully I'll find my mojo soon.
"A smile is the beginning of peace."
"Love the moment and the energy of that moment will spread
beyond all boundaries into blissful, peaceful happiness."
"You are the sky. Everything else – it's just the weather."
"When we are present in each moment, the past gently rolls up behind us
and the future slowly unravels before us."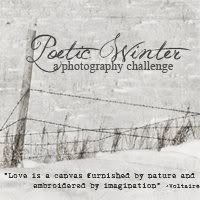 Thank you to the lovely ladies who host this fun challenge! They always inspire me. And I appreciate each and everyone of you who visits. I hope you have a beautiful weekend!