Let's face it. Being a stay at home mommy is not glamorous. It doesn't exactly inspire love, romance and soulful intimacy. All that cleaning, juggling, shuffling, scolding, and laundry folding can leave a mom feeling depleted. But, it is important to stay connected in marriage and foster an intimate bond that goes beyond everyday parenting. Sometimes we need a little help to go from hrumph to umph!
EdenFantasys carries lots of great products to help put some perk back into your partnership. They have products that range from
massage oils
and lingerie to
aromatherapy candles
and yes, adult toys, if you are so inclined. Their site offers books and articles too, in case you need a little inspiration. Check out all the great massage lotions, oils, and aromatherapy candles that EdenFantasys has to offer. You might find just the thing to reignite that spark you thought had fizzled.
Note:
EdenFantasys
is an 18+ adult site.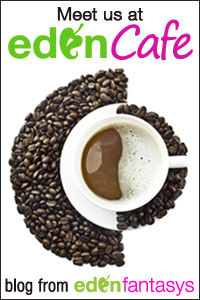 I received a gift card to Eden Fantasys in exchange for sharing information about this site.