Linking up today for Simple Things Sunday.
I captured this picture of my boys working together this week. I'm so glad they have each other. I love that they have common interests that they can bond over, like trucks, BMX biking and Legos. I hope they will remain close as they get older. What a gift they can be to each other!
Find more Simple Things posts at Rebecca's place: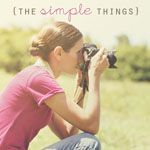 Have a great Sunday!