My simple thing today is smiles. Such a little thing can have such power. To change a mood, to change a day, to make the world a better place...
"A friendly look, a kindly smile, one good act, and life's worthwhile."
Pin It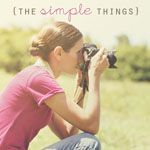 I hope you have a beautiful day! Carry a warm heart and a big smile!