Not in my wildest dreams could I make it to
Blogher
this year. For starters, I'm having a baby any day now. And beside that whole labor and delivery thing, it's not in my budget, nor am I blessed with enough babysitters to even go out to dinner more than once or twice a year, much less take a few days off to head to NYC.
Would I like to go? You bet! Sounds like a great opportunity to learn new things, let loose, network and make some great friends. But, it's just not in the cards for me right now. So, what about you? Stuck at home? Not interested? Can't justify the expense? Well, fret not, my friends. LT over at
A Day With Two
has come up with a fun idea for a blog hop for those not hopping to Blogher this year. Stop by leave your link and a comment and you're entered to win a $50 Target Gift Card. (Plus you can visit and commiserate with all the other bloggers not attending THE big gig.) How about them apples?! It's not the Big Apple, but a close second in my book ;)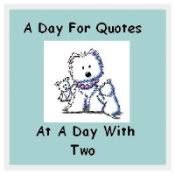 And don't miss my giveaway this week for a set of
Tommee Tippee Explora Cups
!