My green thumb came only as a result of the mistakes I made while learning to see things from the plant's point of view. ~H. Fred Dale (Thanks, Anne)

Gardening requires lots of water - most of it in the form of perspiration. ~Lou Erickson

What a man needs in gardening is a cast-iron back, with a hinge in it. ~Charles Dudley Warner, My Summer in a Garden, 1871

There can be no other occupation like gardening in which, if you were to creep up behind someone at their work, you would find them smiling. ~Mirabel Osler

Gardening is a matter of your enthusiasm holding up until your back gets used to it. ~Author Unknown

The greatest gift of the garden is the restoration of the five senses. ~Hanna Rion

In my garden there is a large place for sentiment. My garden of flowers is also my garden of thoughts and dreams. The thoughts grow as freely as the flowers, and the dreams are as beautiful. ~Abram L. Urban

It is good to be alone in a garden at dawn or dark so that all its shy presences may haunt you and possess you in a reverie of suspended thought. ~James Douglas, Down Shoe Lane

Unemployment is capitalism's way of getting you to plant a garden. ~Orson Scott Card

Gardening is about enjoying the smell of things growing in the soil, getting dirty without feeling guilty, and generally taking the time to soak up a little peace and serenity. ~Lindley Karstens, noproblemgarden.com

You can bury a lot of troubles digging in the dirt. ~Author Unknown

Earth is here so kind, that just tickle her with a hoe and she laughs with a harvest. ~Douglas William Jerrold, about Australia, A Land of Plenty

Green fingers are the extension of a verdant heart. ~Russell Page
Are you planning a garden this season? We've just begun getting our yard ready for Spring and have planned a vegetable garden. Last year we had some luck with our tomatoes, carrots, cukes, peppers and herbs but we're novices. This year we're moving the garden to a new location and plan to expand. Fingers crossed that we'll have a bountiful harvest.
Do you plant a garden? It's such a fun learning project for kids...and a great wey to get them to eat their veggies! Here's a
post I wrote on composting
if you are interested. We found composting to be a simple, easy way to add rich nutrients to the soil and great flavor to our tomatoes.
For more Quotable Sunday, visit
A Daily Dose of Toni
.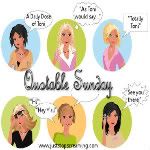 Thanks for stopping by today! Have a beautiful day!